Whether you're of Irish origin or you simply like clovers, these shamrock tattoo pictures just might help you plan your next tat. Shamrocks are considered one of the luckiest of all designs and are also some…
Keep reading »
Browse Topics in Tattoo and Body Art Pictures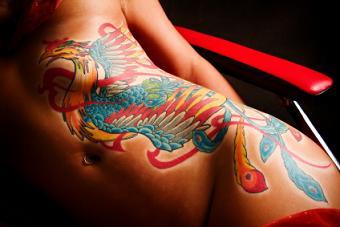 Tattoos pictures are a wonderful place to gather ideas for your first tattoo or an additional design. Seeing a tattooed image on a body or a piece of real body art helps you visualize the design and the impact of the style.
Tattoo Flash Pictures
Slideshows and galleries of tattoo designs can inspire your choice of flash and the placement. Whether you're seeking a new idea or just a new spin on an old classic, tattoo pictures offer hundreds of ideas. Take a look at some of the most popular tattoo designs, and use this inspiration to create your own fashionable and meaningful piece.
Selecting a Piece and a Place
Tattoo selection is a deeply personal and meaningful process. While many tattoo enthusiasts design their own images or have an idea of what type of tat they desire, others only know they want a tattoo. The body is a canvas of endless opportunities. Some of the most popular tattoo designs include:
Flowers and vines
Pin-up designs
Portraits and fonts
In addition to the tattoo piece, placement can make or break your tattoo's impact. Some of the most popular tattoo placements include:
If you want a unique tattoo, consider a unique placement as well. The following areas are hip and trendy:
Hire an Artist
Once you've selected a tattoo design, you'll want to hire the most experienced and reputable artist you can afford. Ask around for tattoo recommendations, and request to see each artist's portfolio prior to booking your appointment. Most tattooists offer free consultations, and this is a wonderful way to meet the artist and determine whether your ideas and goals for the piece are compatible. Tattoos are obviously a permanent art form, so make sure you invest ample time in both design and artist selection for the best results.Check back often to see the latest slideshows and photos added.