If you are considering getting one of the many cool tattoos that are becoming more and more affordable and readily available, be sure to consider the pros and cons of getting a tattoo, and that you are comfortable with how tattoos are administered before you jump into it.
Things to Consider Before Getting Inked
It can be easy to forget about the practical side of things when you see one of the many cool tattoos on the web, and on other people both in real life and on television. They look harmless enough, but tattoos are permanent marks on the surface of your body. They are nearly impossible to remove without laser surgery a rather invasive and expensive medical procedure, and can have repercussions both physically and emotionally.
There are some things that you should consider before getting inked; no matter how cool, tattoos are irreversible and they are physical modifications to the body that require a bit of discomfort to obtain. Be sure that what you are doing is what you want to do, and that it is not a decision you will regret in the future.
Questions to Ask Yourself
Will this affect my ability to obtain employment?
Will this affect my relationships with friends or family?
Will I get sick of looking at this?
Does this mean something to me?
Why do I want to get a tattoo in the first place?
Will I be okay with other people being able to see my tattoo?
Is my tattoo something I will have to hide?
Different Types of Tattoo Designs
Depending on your interests, what different types of tattoos do and do not qualify as 'cool' tattoos may vary. Tattoo artists are getting better and better these days as equipment and precision is becoming more and more advanced. Polynesian tattoos, tribal designs, white roses, namess, and Chinese and Japanese symbol tattoos are some of the most popular cool tattoos out there, and they are easily personalized to create a personal, meaningful piece of body art.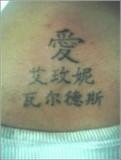 For Really Cool Tattoos-Go Personal
Many people choose to have their tattoos drawn and designed professionally, or they prefer to draw and design their tattoos themselves for a more personal look. What everybody's idea of a cool tattoo is does not apply to some people, and for this reason it may be a good idea to design your own tattoo. For a few extra dollars your tattoo artist might even be able to sketch out a cool tattoo of your very own, so you won't have to worry about having the same tattoo as anybody else in the world. Although the tattoos on the wall in the tattoo studio may look good, consider the fact that many of them are up there because they came out looking good on the skins of other people.
Hiring a Professional Tattoo Artist
If you have a more complicated design that you would like incorporated, many artists accept payments for sketches before they are done, with the understanding that they will be the artist to complete the tattoo once it has been designed. When artists design tattoos, they usually keep their own styles and handicaps in mind so it usually isn't a good idea to take one artist's sketch to another artist to have sketched.
Cool Tattoos-But at What Cost?
Although tattoos are well worth it to many people and they are often beautiful works of body art, consider the fact that they do not come cheap. While tattoos are not wildly expensive in terms of dollar amounts, tattoos are inked on the skin with a needle that injects ink under the surface of the skin repeatedly. It creates a painful buzzing sensation; many people bleed and the skin is usually rather red and irritated for a while afterwards.
Go For It!
If you have your eye set on a cool tattoo and if you are willing to accept the consequences and pay the cost then go for it. The reward will be great if you select your design properly, and you will have something to enjoy for the rest of your life if you want.