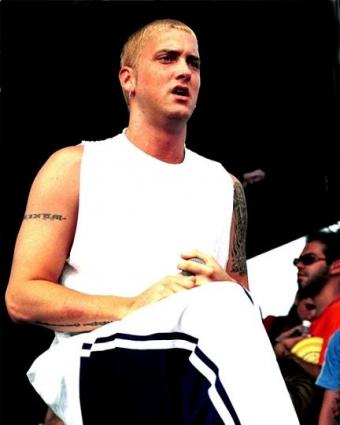 Many of today's music stars have tattoos, but few people have a collection that rivals Eminem's tattoos. This rapper is thoroughly decorated with ink that has personal and professional meaning.
Eminem = Marshall Mathers
Eminem's given name is Marshall Bruce Mathers III, and he was born on October 17, 1972 in St. Joseph, Missouri. He started his rap career at the tender age of 13, with the group Soul Intent, and released his first album in 1995.
It took Eminem until 1999 to have an album released on a major label, Dr. Dre's Aftermath Entertainment. His first album garnered Eminem much attention, both good and bad, as some critics praised his talent and others were offended by his choice of lyrics.
His second album was Eminem's fastest selling album to date. The Marshall Mathers LP contained several of the rapper's biggest hits, including "The Real Slim Shady" and "The Way I Am". This album also got rave reviews, but was controversial in its lyrics and went on to insult several other celebrities, including Christina Aguilera.
Other parts of Eminem's life have been exposed to the public eye, and he has not been able to keep these items out of his lyrics. This includes his rough relationship with wife Kim, his love for his young daughter, and his childhood with an abusive mother and living in poverty.
Eminem's Tattoos
Many of Eminem's tattoos are symbolic of different issues in his life, such as his marriage and music. These tattoos range from lettering on his abdomen to more intricate portraiture on his upper arm. Here is a comprehensive (for now) list of Eminem's tattoos:
Stomach Tattoo - this tattoo is lettering which reads "Rot in Pieces", a tattoo that Eminem got after a fight with his then wife Kim. It is a picture of an open grave with the words "Rot in Pieces".
Upper Right Arm - the tattoo located here is a portrait tattoo of Eminem's daughter Hailie, as well as a group of roses surrounding her. The name of one of his songs, "Bonnie and Clyde" is inked beneath the portrait, a song which was dedicated to his daughter.
Lower Right Arm - Eminem has two tattoos located here. On the back of the arm is a name tattoo reading "Hailie Jade", which was inked on the date of his daughter's birth. On the front of the forearm is the letter "D", the first part of D12 logo. There is also a tattoo directly below the "D" that states, "Slit Here".
Upper Left Arm - this tattoo image is a dedication and mark of respect for Eminem's deceased uncle Ronnie Pilkington - the man who first introduced him to Hip Hop.
Lower Left Arm - there are also two tattoos located on this part of his arm. The number "12" (a continuation of the "D12" logo from the right arm) as well as a gothic style bracelet that was inked while Eminem was drunk.
Getting An Eminem Inspired Tattoo
Most of Eminem's tattoos are specific to his life and values - and are not the type of tattoos that would be easily adapted to another individual. Perhaps the best thing to be learned from these tattoos, and the best way to get an Eminem-like tattoo, is to get tats that are important to you. If you have a child, why not get his/her name tattooed on your arm, to show your love - or maybe even a portrait? It will be a great way to always remember your feelings for an important part of your life.Of course, you could always get a tattoo portrait of Eminem himself in order to honor the artist, but remember - tattoos are forever, so don't go into the tattoo parlor without thinking over your tattoo ideas very carefully.