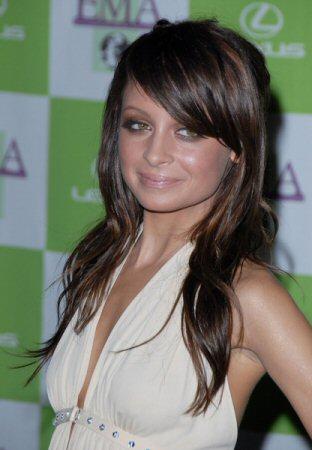 Nicole Richie and her Tattoos
Second only to Angelina Jolie on the Top 25 Tattooed Celebrities of 2005, Nicole Richie is no stranger to the inking gun. While Paris Hilton and Nicole Richie are perhaps better known for wearing expensive designer jewelry and clothing, the latter is making her own fashion statement by getting her body inked with tattoos. No, she doesn't have any jailhouse tats or symbols indicating gang affiliation, but she is a rebel in her own right, having dealt with her own problems of drug addiction.
Brief Biography
Born on September 21, 1981, Nicole Camille Richie is the adopted daughter of famed singer Lionel Richie and his wife Brenda Harvey-Richie. Word is that her birth mother was a backstage assistant for Lionel, whereas her birth father was a drummer who worked with him. While she was raised by Lionel and Brenda since she was three years old, Nicole wasn't legally adopted until she was nine. To this day, the young, fashionable socialite is said to stay in contact with her birth mother, though her (possibly non-existent) relationship with her birth father isn't quite so clear.
Nicole Richie is perhaps best known for the three seasons she spent starring alongside childhood friend Paris Hilton on the popular television series A Simple Life. The pair has since parted ways, though Nicole still stays in regular contact with Paris' younger sister, Nicky Hilton (born Nicholai Olivia Hilton).
List of Nicole Richie's Tattoos
According to most reports, Nicole Richie has nine and a half tattoos. Here is a list of some of the most prominent:
Rosary on Her Ankle and Foot
Probably her most popular tattoo, inspiring young girls across the nation, the rosary tattoo on Nicole's left ankle and foot affirms her religious background, though most people wouldn't exactly point out Richie as the ideal Christian. The rosary beads encircle her ankle, with the Christian cross seen going over the top of her foot, and about halfway to her toes. The cross is particularly well detailed.
Angel Wings on Her Back
Further to the "good Christian girl" image that Nicole may be trying to portray (contrasting her rocker, bad girl appearance that shows up in the tabloids from time to time), the young socialite has a pair of angel wings found on her shoulder blades. They are both quite small -- about three or four inches in length -- and appear to be colored in orange or faded red. Some may say that these are "Indian Summer" colors.
"Richie" and a Ribbon on Her Neck
On the back of her neck, Nicole Richie has her last name -- "Richie" -- in an old English font. Above that is a red bow and ribbon, which is sometimes hidden by her blonde hair. Perhaps she is saying that she is a "gift".
Tiara
Nicole has a tiara located on her hip -- not a spider as is sometimes reported.
Red Shooting Star
Located on the inside of Richie's right wrist is a red shooting star. It matches stars received by two of her closest friends: Quincy Jones' daughter Kidada and the late singer Aaliyah.
"Virgin"
On her left wrist, she has the word "Virgin" tattooed because she is a Virgo.
Ballerina Slippers
Her father Lionel Richie wrote a song for her about ballerina slippers when she was little. To commemorate the song she had the slippers tattooed on her abdomen.
Cross
She has a cross located on her lower back it is unkown what kind though.
The Half
Nicole Richie was at her friend's tattoo parlor, and he told her not to play with the tattoo gun, but being Nicole, she played with it and dropped it. When the gun dropped, it fired a spray of dots on a finger. Which finger though is unknown.
Credit Where Credit Is Due
The information about the red shooting star tattoo, the ballerina slippers, cross, "Virgin", tiara, and the half tattoo all came from the June 2006 issue of Vanity Fair Magazine.