Photographs of Celebrity Tattoos
David Beckham
Photographs of celebrity tattoos show that the stars love their ink. For example, check out soccer star David Beckham's sexy lady tattoo sleeve. Is that Posh in her Spice Girls days, or a reminder of one of Beckham's previous loves? Check out other celebrity tattoos in the following pages.
Johnny Depp
This forearm tattoo does double duty marking memorable events in Johnny Depp's life. Jack is the nickname of Depp's son John, but the sparrow motif also provides a nod to Depp playing the larger-than-life character of Captain Jack Sparrow in the Pirates of the Caribbean movies.
Lily Allen
No one would accuse British singer Lily Allen of being demure, and her collection of small inner wrist tattoos reflects her unconventionality. The set includes Homer Simpson, a barking dog and a bizarre smiley face.
Angelina Jolie
Angelina's passion for body ink is well documented. This photo shows just two of her tattoos honoring her children, but she also has numerous other tats including a tiger on her lower back.
Travis Barker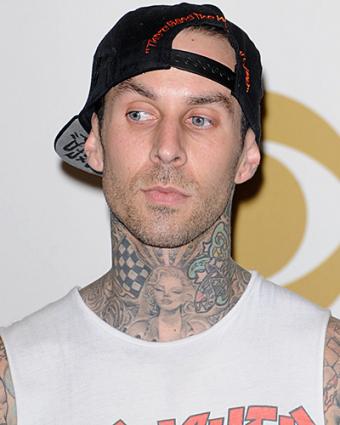 Former Blink-182 drummer Travis Barker loves his ink, and also has a passion for piercings!
Keith Urban
County music superstar Keith Urban shows off his "Love Conquers All" wristband (written in Latin) and eagle forearm tat in this publicity photo for American Idol.
Josh Todd
Looks like Josh Todd of Buckcherry is well on his way to a full tattoo shirt. The look is awesome!
Dennis Rodman
NBA great Dennis Rodman is always good for a show. Here, he displays his tattoos for the PETA fashion campaign, "Think Ink, Not Mink."
Dave Navarro
Former Jane's Addiction guitarist Dave Navarro is almost as famous for his tattoos as he is for being Carmen Electra's ex.
Tommy Lee
In Motley Crue rocker Tommy Lee's world, there's no such thing as too much ink. Check out those awesome sleeves!
Did you find the inspiration for your next tattoo viewing these cool tattoo designs chosen by well-known celebrities?