The Piercing Pagoda is a well-known staple at malls throughout the United States, as well as Puerto Rico. Learn more about this piercing giant's humble beginnings, and what you can expect to find there.
Piercing Pagoda Beginnings
There was a time (1969), when the Piercing Pagoda was just a single little kiosk in Pennsylvania's Whitehall Mall. Although body piercing has been practiced for centuries, it was about to go mainstream with the American public. The kiosk's founders Bernie and Bertha Cohen had the vision to see how one simple piercing station could be parlayed into a multi-million-dollar franchise.
Since those early days, the Piercing Pagoda has seen its number of kiosks rise from one to over 780. In 2000, it was acquired by Zales Jewelers, which was purchased by Signet Jewelers in 2014. As of 2017, Piercing Pagoda is part of the Signet Jewelers, a leading jewelry industry brand.
Free Ear Piercing
The Piercing Pagoda has largely built its clientele by offering free ear piercing with the purchase of a set of starter pierced earrings. The combination of buying beautiful jewelry while receiving a free service has proven irresistible to millions of men and women, so much so that Piercing Pagoda marks its experience in "ears" rather than years.
All of the piercing staff are re-certified annually, and the company prides itself on thoroughly training all of its associates in proper sterile piercing procedures and providing essential aftercare instructions to all of its customers. Only single-use, disposable piercing cartridges are used on each client, and the staff always wears surgical gloves to lower the chances of cross-contaminations that can lead to infection.
If you buy a second pair of earrings with your first purchase, the company will offer you 50 percent off. They also offer single ear and cartilage piercing specials. Getting a single piercing will require a $3.50 restocking fee and a cartilage piercing is an additional $2.00.
Jewelry
Over the years, the Piercing Pagoda has earned a reputation for offering 10-14k gold jewelry at prices that make it affordable to own. If you've ever actually walked past one of these kiosks at the mall, you're probably familiar with the way the well-lighted displays glitter with "bling". This is in stark contrast with some other piercing venues that favor the "head shed" style of decor, and has greatly contributed to the company's mainstream appeal. In addition to all of the gold, the company carries a large selection of sterling silver and diamond jewelry. They also carry some stainless steel selections.
Earrings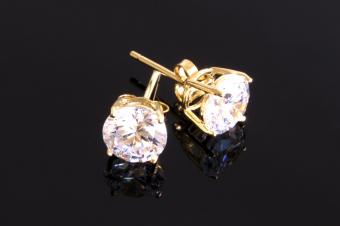 Piercing Pagoda has made its name on earrings and there is a reason why. This company offers a wide selection of hoops, drops, studs, and cartilage earrings for men, women, and children. You can also find an array of gemstones, cubic zirconia, and diamond styles. They also keep up on trending styles and have popular options like octagonal hoops, triangular studs and unique tree studs.
Popular looks include:
Classic studs, like the 3mm Cubic Zirconia Stud Earrings. Sold for about $30, these feature 10 karat gold to hold the gems, these are perfect for any occasion when you need a touch of sparkle. Because of their simple and classic design, they are easy to pair with a variety of other pieces.
Fashion earrings, like the Rose Gold Cubic Zirconia Stud Earrings with Starburst Jackets. Done in sterling silver with rose gold plating for about $15, these are constructed with a small trio of cubic zirconia studs and a starburst jacket design for a fashionable look that can be dressed up or down.
Necklaces
While earrings might be what they are known for, Piercing Pagoda offers a large assortment of necklaces in several different metals and gems. You can find chains, pendants, hearts, religious symbols, and even customized designs.
Check out designs like:
Simple, delicate styles such as the Bel'Oro Double Heart Lariat Necklace. With two small, shimmering, mirror-like hearts and done in 10 karat gold, this is a feminine style that is versatile and sweet. Find it for about $140.
Bold designs such as the Diamond Accent Triangle Spike Necklace, available for about $50 and done in sterling silver with five spikes. The center has spike diamond accents and is embellished with bead detailing for a dramatic and fashion-forward style.
Bracelets
Another area of jewelry offered by this multifaceted company is bracelets. You can find bracelets in gold, plated gold or silver, sterling silver, and stainless steel. These come in a multitude of designs including chains, bangles, cuffs, and even charm bracelets for both men, women, and children. If you are looking to add a little bling to your wrist, you can find diamond and gemstone bracelets in all styles. If ankle bracelets are more your thing, they've got that area covered too.
Bracelet designs they carry include:
The Diamond Accent Double Infinity Bangle Bracelet. This is done in a combination of sterling silver and 14 karat gold plating, with eye-catching diamond accents on the silver infinity portion. It measures seven inches around and is sold for about $130.
This delicate Child's Glitter Enamel Heart Charm Bracelet. It is done in sterling silver with four pretty pink sparkling glitter heart charms. This six-inch bracelet is a fun gift idea for any little girl and is sold for about $30.
Rings
Given that Piercing Pagoda is affiliated with Zales, it shouldn't come as much surprise that you can fill all your ring needs here as well. In addition to engagement rings and wedding rings, you can find an assortment of bold, thick rings, stackables, diamond rings, and even rings for kids with fun Disney characters. If you like bright gemstones, they have you covered there as well in round, oval, square, heart, and princess cut designs. They don't just have rings for your fingers either, they have toe rings as well.
You'll find items like:
The 10 Karat Gold Abstract Ring. Created with a simple yet eye-catching design, this abstract ring (about $180) features a unique side swoop combined with a vertical bar. This fluid yet bold design makes it a creative statement piece, but its simplicity also makes it versatile enough to combine with plenty of other ring and bracelet styles if desired.
The Diamond Solitaire Ring in 10 Karat White Gold. Stunning and classic in style, this simple ring lets the diamond solitaire take center stage. Done in white gold with a 1.5 CT diamond, it offers a traditional look with en enhanced setting to make the diamond stand out. It retails for about $400.
Charms
You can find an assortment of men's, women's, children, and even unisex charms for necklaces and bracelets. These come in a number of different styles like animals, crosses, crucifixes, hearts, hobbies, etc. You name it and Piercing Pagoda probably has it.
Popular styles include:
The Starfish Charm in 10 Karat Gold. Whimsical in style and a great choice for any woman or girl who loves the beach or marine life, this starfish charm is done in gold with a diamond-cut finish for extra shine. It retails for about $40.
Initial charms, such as this Simulated Birthstone Charm in Sterling Silver. Contemporary in style, this comes with a round charm that includes an initial in the center and the simulated birthstone of choice for about $50.
Body Jewelry
Piercing Pagoda has a good selection of belly button rings, and they also have jewelry for your lip, tongue, eyebrow, nipple and nose, as well. You can find sleek and stylish barbells as well as unique captive bead rings and horseshoes. Labret designs are also available.
You can find looks such as:
This 014 Gauge Simulated Opal Belly Button Ring. The shimmer simulated opal (6mm) adds a classy look that comes alive with iridescent shine. It has 10 Karat gold for the center, and retails for about $65.
The 020 Gauge Twist Nose Ring in 14 Karat White Gold. A sleek style that is at once classic yet contemporary, the twist style puts a modern look on the traditional nose ring. It is finished with a polished style that offers excellent shine and retails for about $30.
Piercing Pagoda Credit
Piercing Pagoda offers a credit card for its valued customers. The card is offered through the Comenity Capital Bank. This credit card allows you to use credit in the store and pay bills in the store. You can also get six-month and 12-month special financing, as well as coupons and special discounts through the year for holding a Piercing Pagoda credit card, including $25 dollars off a purchase of $50 or more on your birthday.
The interest rate for this card is 29.99 percent but can vary, and you'll be charged a $9.95 fee for promotional credit plan purchases. The amount of credit offered for the card will vary based on the credit application and credit score.
Coupons and Sales
Beyond the discounts that are offered for holding their credit card, you may occasionally find offers on the store's website. These may include:
Pagoda Dollars: This is valid only for those who subscribe to Piercing Pagoda emails. Promotions may vary, but you may find an offer such as $10 back in Pagoda dollars that can be used on future purchases for every $40 you spend.
Seasonal Sales: You may find lowered prices and special discounts on some of the online and store inventory as the seasons change and around holidays throughout the year.
Text and Email Savings: You can sign up to save 10 percent off your first order by subscribing to text or email alerts. You may also be eligible for special contests and other promotions from time to time.
Local areas my offer coupons for specific stores, but these can vary based on location. However, if you are looking for coupon codes or specials, you may find some through online discount sites.
RetailMeNot is a popular online coupon site that lists a number of offers for Piercing Pagoda. You can typically find about 10 percent off, and there are online coupons along with those that can be redeemed in the store.
Groupon also lists various coupons. These will vary based on the month. You might be able to find some like 10 percent off your order or free shipping on online purchases.
Coupons.com lists a host of coupons Piercing Pagoda. Most of these are for use on the online website, but you may find some that are printable. Additionally, these list the expiration dates for the code.
Pros and Cons
Reviews for Piercing Pagoda are typically regional and varied based on a specific location. But you can find many of the same positive and negative comments from websites like Yelp and BirdEye.
Pros
The piercings are done with a gun and are relatively quick.
They offer a wide variety of jewelry selections.
They cater well to small children.
No need for an appointment.
Cons
Many of the Kiosks use a gun rather than a needle. Since a gun can't be sterilized, this might lead to a greater risk for infection.
The jewelry comes with a warranty, but many reviewers found it difficult to get replacement jewelry.
The company carries many plated jewelry types; therefore, you must pay close attention to the description. Some customers thought they were getting solid materials that turned out to be plated.
One Stop Shop
Whether you're contemplating your first piercing, or you're just in the mood to purchase some new jewelry, chances are you can find something to tempt you at the Piercing Pagoda. For over forty years, this company has enjoyed a solid reputation for providing clients with both quality merchandise and safe, friendly service. It has grown to include a plethora of jewelry styles and offers the convenience of a store credit card. While there are both positive and negative reviews to consider, you might just want to give the Pagoda a try for yourself.