Faith in Love
True love tattoos can express your devotion to a particular person or the idea of true love in general. However, they can also be tricky to design. If you add your true love's name to your body art and things ultimately don't work out, you're going to end up spending quality time with a laser. If you haven't yet found the love of your life but you want to express your faith that true love exists, feel free to get tattooed anyway. The following tattoos and illustrations provide ideas you can incorporate into your own unique design.
Love Letters
This design is a good example of how to express your faith in true love without being too specific. The script letters have a very romantic feel to them, and you could just as easily modify this design to say True Love.
Another Kind of True Love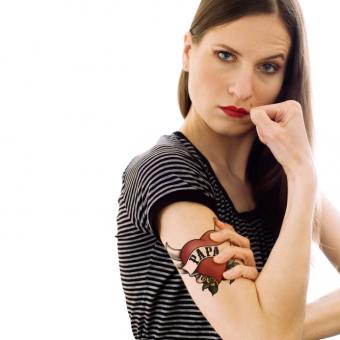 True love doesn't have to be romantic. If you have a strong bond with a parent, feel free to show your devotion with a commemorative tattoo.
Grunge Love
This design expresses a strong sentiment, but you won't have to change a thing if the relationship comes to an end.
Love Struck
Cupid's arrow through the heart provides great symbolism for true love. The love banner plays it safe, but you can substitute your lover's name if you feel very confident you won't regret it later.
Claddagh True Love Tattoos
The claddagh symbolizes a perfect union of love, faith and friendship, so it makes a great basis for a true love tat. The heart offers the perfect place to say whatever you'd like to say.
Forever...
This design could make a great couple's tattoo. This could be achieved by leaving the design as it is and both partners getting matching tattoos, or you can go the extra mile and add each other's name at the bottom of the piece.
Looking for more romantic tattoo ideas? Check out Wedding Tattoo Pictures.