Eagle Tattoo Inspiration
Eagles are classic subjects for tattoos because they symbolize power and patriotism, and their popularity never seems to wear out. If you want a tattoo that will stand the test of time, consider the mighty eagle as you browse through this gallery of design ideas.
The tattoo pictured here shows a great example of the eagle's head and its fierce expression. It's eye-catching as part of a larger tattoo sleeve.
Zentangle Native American Eagle
This Zentangle-style eagle tattoo design takes an unorthodox approach to Native American symbolism, but the result is amazing. It focuses on just the eagle's head, and each of the bird's feathers are filled in with geometric designs. It's wearing a war bonnet that also features unconventional feathering. With so many fine details, a design like this would be done best as a large back tattoo.
Military-Style Eagle Design
This eagle design with its anchor and sabers could easily become part of a military theme tattoo for someone in the Navy, Coast Guard or perhaps the Merchant Marines. The simple outline of the eagle looks chic, but a skilled tattoo artist could certainly fill in the details for you. Consider this tat for your upper arm or the back of your shoulder.
Imaginative Eagle Tattoo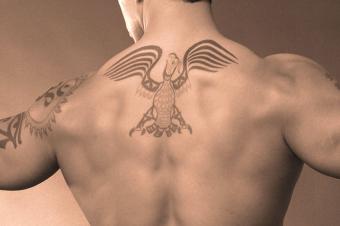 This design departs from traditional renderings, but it still looks spectacular centered between this man's shoulders. Stripes are used to create the wings, and the widespread legs show a touch of tribal tattoo technique. The unique combination of elements in this design shows that you can be imaginative and still make a powerful statement with your eagle body art.
Colorful Eagle
Many eagle tattoos are simply done in black ink with shading, but adding colored ink can really make the design stand out. This tattoo features the eagle's head and a few talons, and the minimal use of color enhances the design without overwhelming it. It looks great on a shoulder or leg.
American Eagle Banner
Flash art provides tattoo inspiration, and this tat would look great anywhere on your body. This black ink American eagle design with its stars and banner could be perfect for honoring a military member in your family or a former military member who has passed away. Your tattoo artist can add the name on the banner.
Descending Eagle
This detailed eagle looks like it is making a fast decent judging by the way the artist drew the feathers ruffling back. A tattoo like this could symbolize determination. Due to its size, the upper arm or thigh would be the perfect placement for this design.
Edgy Eagle Banner
Here's another take on an eagle and banner motif, which would be right at home on the shoulder or back. The eagle is placed over a stylized scrollwork background, and it looks terrific in white and shades of grey through black. An edgy banner design like this just might suit your sense of style.
Firefighter's Eagle
This colorful tattoo features an eagle clutching a firehose above flames, and the American flag is in the background. It would be a good design for a firefighter in general, but it would also make a nice homage to the firefighters who perished on 9/11/01. It works on an arm, but you might also consider having it tattooed on your leg.
Two-Headed Eagle
This two-headed eagle would be rather unique on its own, but the rays in the background add extra interest and almost make it look like an emblem. This would be a good tattoo design for an upper arm.
Regal Bird of Prey
This eagle tat really shows the strength and power of this regal predator. You can just imagine it sweeping down toward its prey with those talons stretched out, ready to latch onto its unlucky target. It's the perfect design for the lower back.
Tribal Eagle
This is an incredibly sharp tribal-style eagle design. It shows the eagle in profile with wings straight up. Black ink and strong arcs that come to points are hallmarks of this design genre, and they convey the eagle's fierce nature perfectly. This tattoo would work well on an ankle or forearm.
Polish Eagle
This tattoo is inspired by Poland's national coat of arms. The eagle's wings are wide open, and each one has a feathery star accent. There is a crown on its head which gives it a regal look, and the word Polska is tattooed beneath it. The entire design is perfect for anyone who wants to honor his or her Polish heritage on the upper arm or shoulder.
Eagle, Ribbons and Stars
Imagine this eagle, ribbons, and stars design as a chest tattoo mural. Its Americana style makes a patriotic statement, and the use of brown ink sets it apart from black ink designs in this genre. When you look at it, you can almost hear the piercing scream coming from the eagle's open beak.
Make the Eagle Your Own
This bright and intense eagle makes a wild and edgy show piece on this man's shoulder, and it's combined with a beaded necklace tattoo that circles around his neck.
Eagle tattoos can be truly impressive regardless if they're done in black or colorful ink. Whether you're looking for a patriotic tattoo or you simply love the look of these amazing birds, pick a design that inspires you and then try to add some original touches to make it your own.