Tattoo Lettering
Tattoo lettering can take many forms, from adding a name to a heart design to inking your favorite song lyrics on your back. From script to block lettering, word tattoos can be as unique as the sentiments you express through them.
Banners
The tattoo itself can be made up solely of words, depicted using different styles of fonts. There are many stylistic approaches that the tattoo artist can take in order to make your font stand out, like framing the words in a banner.
Block Fonts
With block fonts, the artist draws the outline on first, then fills in the outline with the color or colors of your choice. Block tattoo fonts hurt more than other lettering styles, as filling in the outline takes more time.
Script
Tattoo fonts are derived mainly from typographical sources, but some are created by the tattoo artist and some, like the example pictured here, can be done in the handwriting of the recipient. Fine script fonts are much harder to draw on the skin with a tattoo needle than block fonts, so make sure your artist has lots of experience with this style.
Layers
Sometimes lettering can be layered on top of another image. If you want to include words in an image tattoo, the artist can help you choose the right font to accompany the design.
Calligraphy
Calligraphy is the art of drawing letters in designs. Using this style adds depth and allows the lettering itself to become the design.
Simple
If the message is what you want to get across, choose a simple, clear font that is easy to read at a distance.
Elaborate
Sometimes the font of the tattoo works best if it matches the origin of the word. This elaborate, flowing script works well with the scripture of the tattoo.
Foreign Letters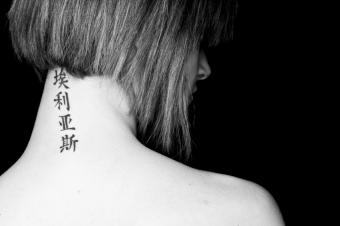 Tattoo lettering doesn't have to be done in the language you speak. Characters and symbols can also be used. If you want lettering in a foreign language, it is best to find someone who is fluent in the language to either do the inking or at least confirm the lettering actually spells out the correct sentiments.
Learn more about the meanings behind character tattoos.