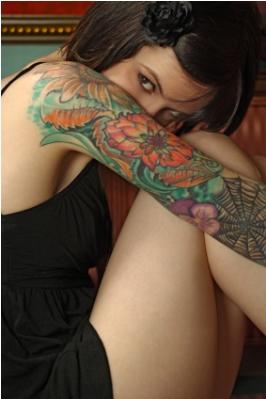 What does it take to become a famous tattoo artist? The tattoo artist must have artistic ability, business know how, perseverance, marketing skills and a lot of luck to be set apart from the rest.
What Does it Take To Get Noticed?
Just like every other art form, there are famous tattoo artists who excel at the craft, but only a few are lucky enough to be in the right place at the right time and know the right people. There are thousands of tattoo artists who are extremely talented, but will never reach fame because they have not been lucky enough to get noticed. A tattoo artist needs to find his style and niche, then find a way to market his skills and get recognized in one of the tattoo magazines such as:
Talent
Tattoos can be a simple black outline, or an elaborate color filled masterpiece. A fame-seeking tattoo artist must first have the skills to create masterpieces on paper or a small canvas before he is able to complete it on skin. There is no room for mistakes on skin; a skilled tattoo artist is able to complete a project with no mistakes at all. Most top quality tattoo artists will have completed fine arts training in lettering, depth, coloring, shading and scale.
Famous Tattoo Artists
Some tattoo artists may also have been noticed for tattooing famous people. Following are some of the more noteworthy tattoo artists and why.
Mario Barth
Mario Barth owns a chain of tattoo studios called Starlight Tattoo. He has tatted celebrities such as Lenny Kravitz, Nikki Sixx, members of My Chemical Romance and Fieldy of the band Korn. He has won over 200 awards for his colorful tattoos and amazing depictions of the human image.
Sean E. Bones
Sean E. Bones Runs Tattoo By Design in Irving, Texas. His style consists of a clean, crisp look. He believes getting a tattoo is a spiritual energy exchange between the artist and the person being tattooed.
Fip Buchanan
Tattoo artist Fip Buchanan out of San Diego is famous for Japanese and Asian tattoos as well as animals and portraits.
Jonathan Shaw
New York city tattoo artist Jonathan Shaw is famous for tattooing David Lee Roth, Iggy Pop, The Cure, Marilyn Manson, Naomi Campbell, Kate Moss and Johnny Depp.
Kat Von D
Kat Von D born in Mexico, moved to California when she was four. Currently she is doing tats at Red Hot Tattoo in Arcadia, California. Famous for her photographic quality human portrait tattoos.
Paul Timman
Paul Timman works at Sunset Strip Tattoo in Hollywood. Famous for tatting Drew Barrymore, Angelina Jolie, Nicolas Cage, Kiefer Sutherland, Pamela Anderson, Ben Affleck, Mark Wahlberg and Tommy Lee.
Up and Coming Tattoo Artists
Below are a few tattoo artists who show considerable talent. Though they may be tucked away in a remote part of the country they are famous in their own neighborhoods for creative and quality tattoos.
Ted Granere
Talented Grand Island Nebraska tattoo artist Ted Granere owns Revolution Custom Tattoo and Body Piercing. Tucked away in the Midwest, his tattoo creations include crisp color and unique designs. Ted's shop, Revolution Custom Tattoo, is a professional, clean and sterile atmosphere to get a tattoo, body piercing or just to hang out.
Sean Dowdell
Sean Dowdell founded Club Tattoo in Phoenix, Arizona in 1995 with the help of friend Chester Bennington of the band Linkin Park.
Miss Amanda
Miss Amanda, out of Salt Lake City Utah, is creating unique and colorful tattoos.
Gadoy Twins
Steve and Art Gadoy, first famous as world class skate boarders, founded the Funhouse tattoo shop. They are most famous for tattooing Julia Gnuse who ties for the Guinness World Record of the most Tattooed Woman.
Who's Your Favorite Tattoo Artist?
Everyone's favorite tattoo artist is 'their own' tattoo artist. When you ask someone the question, who are the most famous tattoo artists, they may have a few names handy, but they will usually tell you all about their very own tattoo artist.