Skull tattoos aren't just for the hard-core punk crowd, girly skull tattoos can feminize any skull, making it perfect for even the most delicate wearer.
Types of Skull Tattoos
Skull tattoos have a long history, with multiple variations on the theme. From flaming skulls to Mexican sugar skulls, this image does not have to lend itself to the macabre. In fact, many types of skull tattoos are perfect to feminize including:
Nightmare Before Christmas images
Sugar skulls
Paul Frank images
Cartooned and stylized skulls
Simple skulls made of line drawings
Creating Girly Skull Tattoos
If you're looking for a way to feminize a skull tattoo, and make it more girly looking, there are plenty of ways to do so. Use any of these images, either alone or in combination to create a unique tattoo of a girly skull.
Color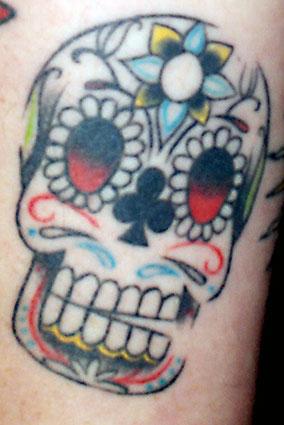 Who says a skull has to be black and white or bone colored? Take some inspiration from Mexican sugar skulls and use color to enliven your design. Whether you create a pink skull, or a multicolored one, color can quickly add girly detail to your skull.
Other color options include coloring the crossbones, or coloring the eye sockets in a feminine color for depth while the rest of the image remains black and white.
A Bow
Give your skull a bow for a contrast in feminine and punk rock images. The bow can be combined with nearly any feminine skull image, such as color, hearts, stars or flowers for the ultimate girly skull.
Hearts
Rather than keeping the eyes of the skull round, consider making them heart shaped. This subtle detail can add some interest to your design without overwhelming it with girly images. An alternative would be to surround the skull with hearts, or crowd the hearts up against the image of the skull for a contrast in images. You can also place hearts on the four corners of crossed bones to incorporate them more fully into the design.
Butterflies
Give a butterfly design a skull head for a hidden skull that pops when you find it. This death masquerading as life image can be a fun scene to add to any larger scale tattoo. A butterfly can also perch on the top of a skull in place of a bow to feminize the look.
Flowers
There are numerous ways you can add flowers to a skull tattoo design. This is by far one of the most popular ways of creating a girly skull tattoo. Designs may include:
Using a skull as the center of a flower
Surrounding the skull with flowers
Having skulls be part of a larger bouquet of flowers
Placing flowers in the eyes or the teeth of the skull
Crossing roses or another long stem flower beneath the skull wear the crossbones would ordinarily be
Having skulls in the place of flowers in a "flowering" vine image
Stars
Star tattoos are one of the most popular girly tattoo images; combine stars with a skull to create a girly tattoo that's tough as well. Stars can be placed in the eye sockets, up against the skull, surrounding the skull or the skull can be centered in the middle of a larger star for a glam look.
Choosing Your Skull
No matter what type of skull tattoo you're after, make sure it truly suits you and encompasses both your girly side and your punk side by incorporating other images that speak to you. The end result should be a girly skull tattoo that is as unique and feminine as you are.