Girly Tattoos
While tattoos can have a reputation for being punk or tough, many feminine and girly tattoos are available. When well chosen and well placed, a girly tattoo can speak volumes about your personality. From flowers to fairies, consider these designs as you contemplate your new tattoo.
Butterflies
It is not possible to get a more girly tattoo than one with butterflies at its center. Butterflies are light, colorful and feminine; the perfect tattoo for anywhere on your body. Ink one, or create an entire flock to show off your inner butterfly and inner beauty. No matter where you place a butterfly, it is sure to be the perfect light touch.
Cosmetic Tattoo
For the ultra-feminine, and for those who take their girly side seriously is the cosmetic tattoo. Cut down on your morning routine permanently with tattooed lip-liner, eye-liner or shadow. The results can be dramatic or subtle, and if done correctly can complement any face. For those who refuse to be seen without makeup, a cosmetic tattoo is the perfect answer.
Girly Tribal Tattoo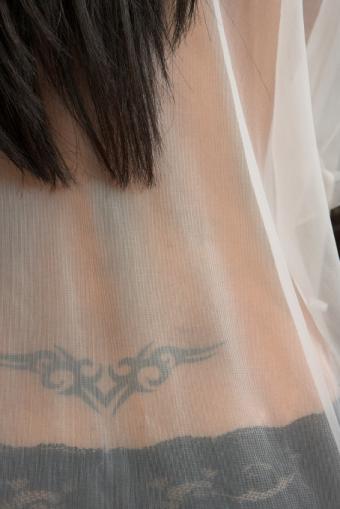 Tribal tattoos are the perfect tattoo for someone who wants to make a statement without saying a word. Combine a feminine, curvy tribal tattoo with a naturally feminine placement like the lower back, and you've got the perfect sexy and girly tattoo.
Appendage Tattoos
Let your tattoo stand in for your jewelry by placing it on the wrist or ankle. A curving, delicate design that accents or encompasses these areas is light, feminine and complementary to the wearer. Let your hands do your talking, and let your wrists capture the attention.
Tattoos of Fairies
Fairies are often seen as ultra-feminine and ultra-girly, so what better way to show off your playful, girly side than with a fairy tattoo. Whether your fairy joins up with a butterfly or flower, or whether she stands alone, a fairy tattoo shows off your feminine attributes with ease.
Star Tattoos
Stars can be fun, playful, passionate or feminine depending on the design and placement. Whether you want one simple star on your arm, or a constellation of stars across your shoulders, a star tattoo can be girly and classic at the same time.
Floral Tattoos
Colorful or gray scale, there are few things quite as girly as a floral tattoo. A single bloom or entire bouquet; a floral tattoo lets everyone know you are a woman in-touch with her girly side. Add flowers to any part of your body, or to another tattoo. No matter how you add them a floral tattoo is sure to please.
For more slide shows of girly and feminine tattoos, check out these links: