Family Tattoo Ideas With Pictures
Families come in all shapes and sizes. Therefore, the tattoos that you can get to represent them are just as diverse. Whether you want the word "family" tattooed on you or would like a matching sister tattoo, there are several unique ideas to consider.
Honoring Your Family
Sometimes the simplest way to show your eternal love for your mother, father, husband, wife or any family member is to have it written on your skin. This versatile piece can be written in a script style font or bold block text.
Not only can you have the actual word "family," but you might choose to add images to go with it. Complement the word "family" with the dates all your family members were born or perhaps represent them with hearts surrounding the wording.
Hearts
While a heart can have several meanings, it is known as the eternal symbol for love. Therefore, it should come as no surprise that hearts and family tattoos go hand in hand. Not only can you have one heart to symbolize your family, but you can choose to add words like "mom" or "dad." If you want to use a heart to signify your children, you might choose to have multiple hearts dancing along your collar bone or shoulder.
Infinity Symbols
Another popular family tattoo is the infinity symbol. This tattoo shows how your love for your family is endless and eternal. Another great factor about this symbol is the fact that it is fully customizable. Not only can you add names to the symbol itself, but you might choose to add images like feathers.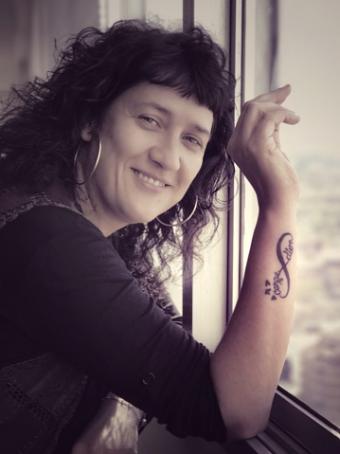 Baby Feet
Parents enjoy symbolizing their love for their children. A great way to suggest your familial love is with baby feet. You can use these in conjunction with the children's names or you might add hearts.
Roman Numerals
Dates on a tattoo are nothing new, but Roman numerals can add intrigue to your family tat. You can choose to add the number of children you have, or you might opt to use Roman numerals for the years they were born. While it might not seem possible, there are several ways to make them unique to you. For example, you might choose to add color or images like stick figures of your family.
Heart Rate Tattoos
Love and family are eternally connected. They are your heart. Therefore, you can have a heartbeat tattoo of your mother, sister or even children. These tattoos can have a unique twist by adding the name of your sister or you might decide to get a matching set with your siblings. Take it one step further and customize this design by adding the actual heartbeat of your family members.
Family Tree
Your family tree is a large part of who you are. If you really want to ink your family permanently, consider a family tree tattoo. These can be symbolic through an actual tattoo of a tree, or you might choose to add their names to the limbs of the tree. For a more complex design, you might consider adding a nature scene or work in the faces of your family.
Family Silhouette
You see them on cars all the time: stick figures of your family. You can take this to a permanent level by getting your family silhouette tatted on you. If you choose this option, you will have numerous varieties to choose from, like a stick figure family or a silhouette of a family holding hands. You might choose to surround them in a heart or circle too.
Tattoo Placement
There are unlimited areas that you can choose to show off your family ink. However, if you want to show how proud you are, you will choose an area that is very visible. Several common areas include near your heart on your chest, the forearm, ankle, collar bone and neck. The smaller tattoos like the infinity symbol and heart rate tats also fit well on the wrist and top of the foot.
Showing Off Your Family
If you are proud of your family, then you can choose to show them off through ink. Matching tattoos are a great idea and there are many possible designs that work on single and multiple family members. Find the design that works best for your family and talk to your local tattoo salon owner.