Double Entendre
The body as canvas presents infinite possibilities for permanent skin art that changes the way you're perceived. Full body tattoos leave no doubt about who is in charge of your life - you've made the irrevocable choice to decorate your epidermis with ink that is beautiful and meaningful for you. Don't be afraid to play on images - such as putting a skull on your shaved head. Whether you choose a phoenix in living color flaming over your spine or an entire storybook of Maori tribals on your arms and legs, your intentional ink redefines you.
Personal Tattoos Tell a Story
The butterfly on the inside of the wrist leads to the Celtic knot on the top of the foot, and from there it's easy to ink a portrait of Dad on your thigh and a matching one of Mom on the other. Soon enough, the series of personal images and favorite icons is an art gallery.
But planning a full body treatment works even better than developing the habit on impulse. Instead of solid ink, space the designs to give each one its frame of bare skin. Careful placement results in a balanced and easy-to-contemplate visual display. Minimizing color choice - here gray-scale against ultra-pale skin - adds dramatic contrast.
Toughing It Out
Once you go under the needle, you know what's in store for a reprise. Multiple tattoos, enough to cover most of the body, represent a serious investment in pain endurance and cash. What they don't represent is a casual addiction. The BBC notes that most repeat tattooers take from two to seven years to commit to a second inking - and that can be the start of a thoughtful pursuit of total body coverage. But good artists don't come cheap. Full body tattoos will set you back thousands of dollars and many many hours, usually over the course of years.
Heavily Armed
When you run out of skin to ink on your arms, it's the pits. Literally. "Full body" means just that when you leave no centimeter of epidermis undecorated. Go for the all-out effect with armpit tattoos. A pair of eyes, hooded like an eagle's, is unmissable when you spread your wings - and hints at your wild, wise nature and your global view of life. If those are cat's eyes, the pelt markings that surround them connect your fierce, all-seeing armpits to your chest and biceps ink. Use a fine artist whose brush is a needle for realistic, feathered, brooding, or watchful eyes.
Hidden Full Body Tats
Some workplaces celebrate the tattooed employee but many don't. If you aren't sure of the reception you'll get at your law firm or in a faculty meeting, borrow a solution from fifth-century Japan: full torso tattoos, hidden and subversive. Take it right to the edge, but stay far enough below the neck so you can leave your collar unbuttoned. Keep wrists and hands below your cuffs bare. Stop above the ankle if your habit is to skip the socks.
Indulge in that colorful full-frontal beast fringed with tropical ferns and flowers, wound around with snakes, vines, skulls, and sinister creatures shaded in black and gray. Then button up and save the vivid glimpse of the real you for the weekend.
Full Face and Body Design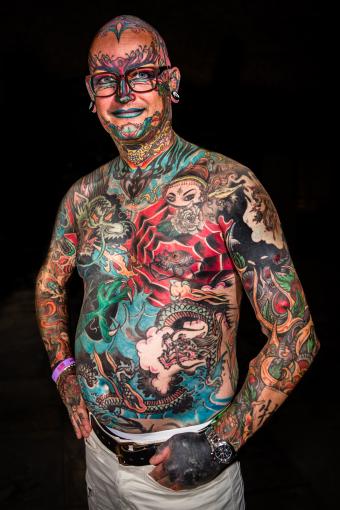 Extending your ink art over your chin, nose, and forehead is going to earn you a lot of double takes. If you plan to put your best face forward to the world covered with intricate tattoos, you need a talented, experienced tattooist to create a design that takes advantage of all those varying planes.
Symmetry is visually pleasing, so minimize the shock value with a mirror design on both sides of your face. Outline the design first and use subsequent tattoo sessions to fill in the lines. That gives you control over how much solid color to use as you adjust gradually to your new look. Coordinate the facial work with the rest of your tats so your face ink doesn't look like an afterthought.
Body Eclectic
Nothing could be more natural than a full body tattoo that reveals your full body - inside-out. A gray-scale ribcage, intestines, even a skullcap of brains, is a comment on mortality that incorporates humor with a strategically placed R.I.P. and a few bats and spiderwebs.
The more intricate the design, the easier it is to include meaningful phrases and symbols that evoke specific milestones in your life. This unique 'zombie' design is quite meaningful to model Rick Genest. According to an interview in Wonderland, he believes that the zombie metaphor represents a transformation that occurs during times of crisis. This design is one to really think about carefully before pursuing because of its dramatic impact.
Girls Just Wanna Have Ink
Ink that follows the contours of the body can form a sinuous montage of personal symbols, favorite icons, and menacing beasts. Soft, almost painterly shading, repetitive curves, the juxtaposition of bright red maple leaves with snarling dragons, colorful cockroaches, lush flowers, and a Mardi Gras sugar skull hint at the complexity of the person behind the design.
This approach lets you incorporate old and new work and add more tats to every inch of skin over time. It will always look finished but it will never limit your imagination - or your jonesing after a new piece of ink.
Om Art
Mandala tattoos are ideal for full body ink art. An ambitious piece - many pieces when you are covering so much ground - requires multiple visits and time between sessions to heal. A mandala outline organizes the image and can be filled in gradually, looking like a terrific design the whole time.
It is also a brilliant strategy for covering up an old tat that has outlasted its usefulness. The yin-yang balance of a mandala represents the Buddhist and Hindu universe. A mandala is a common dream symbol for a search for self, completion and perfect unity.
Feminine Free Spirit Design
Traditional beauty culture can be tricky to navigate, but you don't have to look like a biker to wear a lot of ink. A Day of the Dead sugar skull covering the rib cage is flirty when it's candy-colored and nestled into a bed of lush flowers that stretch from thigh to shoulder blade. Keep the color coming with a full shoulder sunburst in hot pink and a color-coordinated forearm peacock.
Your ink is your expression, so match your manicure and your hair color to your tattoos and get as girly as you like while butterflies settle on your ankles and mermaids perch enticingly on your feet.
Enlightened Ink
You're deep and your ink is dark. You wear your total tats like the billboard of your soul. You'll need a fine artist to illustrate a full-back avenging angel with a Crusader's helmet and shield. Soft gray tones blend all the symbols of your convictions into a harmonious whole, but it is the banner stretching from shoulder to shoulder just below your neck that commands attention.
SAPERE-AUDE is Latin for "Dare to Know," "Dare to Be Wise" or "Dare to Think for Yourself." The challenge comes from the work of the Roman poet Horace and was used by philosopher Immanuel Kant to capture the idea of the Enlightenment in 1784. Your body is living proof that brains are sexy.
Age Is Only a Number
You have the soul of a rebel and the body to match. All-over tattoos can represent a lifetime of work or a long-delayed commitment to adorn yourself like the free spirit you are. When you're up to your neck - or your eyebrows - in traditional Asian and Polynesian designs, who's checking your age? From your flaming thighs to your blooming armpits you are one exuberant explosion of color and skilled ink art.
A consideration before you invest your retirement savings in your new enhanced skin: Tattoos tend to blur and fade with age. Plan to update older work so it is fresh enough to match new lines and colors. (It probably wouldn't hurt to spend a little more time at the gym too).
Skin Covering
Go ahead and use your skin like a canvas to tell the story of your life. Hunt for first-rate artists who share your vision and whose work is worthy of your permanent gallery space. Aim for at least one really major piece to occupy serious real estate on your back, chest, or both thighs. Coordinate the style, even if you are working old tats into a new vision of body art. Whether you prefer the breathing space of tats that show a little skin or the total immersion that covers every centimeter of your epidermis, your full body work will be a showstopper. Wear it proudly.